If you're like most business owners, this probably sounds familiar…
The good news is, if you feel trapped in your business, you don't have to stay there!
We all want our business to run with the precision of a Swiss watch, and we know systems are the key.
The trouble is, all too often business owners get stuck in the day to day operations.
They think they need to be the ones to create the systems themselves, but they're too busy working in their business to find the time.
What ends up happening is they get stuck in a loop of not having time to create systems, but they know the right systems would create more time…
That approach is what keeps businesses in survival mode.
To get out of the survival mode and into scaleable and saleable stages, you need a different approach.
You need…
A way to create systems consistently without the business owner…
A way to be certain all the critical systems are documented, organised and followed…
A way to maximise the performance of your systems, so the business is efficient, profitable and scaleable…
And a way to get complete buy-in from your team to adopt a systems culture…
Introducing the SYSTEMology Membership!
The Membership is the step-by-step training, software and templates that business owners and teams need to successfully systemise their business and build a systems-centered culture.
It's quite literally the system for systemising business!
And it's packed with everything needed to extract, organise and optimise business systems, with all the training and support that's needed along the way.
PLUS our systems vault with over 90+ ready to swipe-and-deploy systems so you can use them to get immediate results in your business.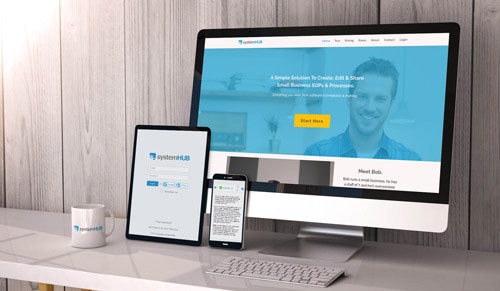 The membership will help you to:
Create systems quickly and easily, without the business owner.
Eliminate the guesswork about which systems to create next by having a step by step framework to follow.
Get buy-in from your team so they not only want to follow systems – they improve them too.
Organise all your SOPs in one place that's securely accessible from anywhere.
Significantly reduce errors within your business so you get the best return on effort.
Finally have all the tools and training you need – saving you months (even years) of trial and error.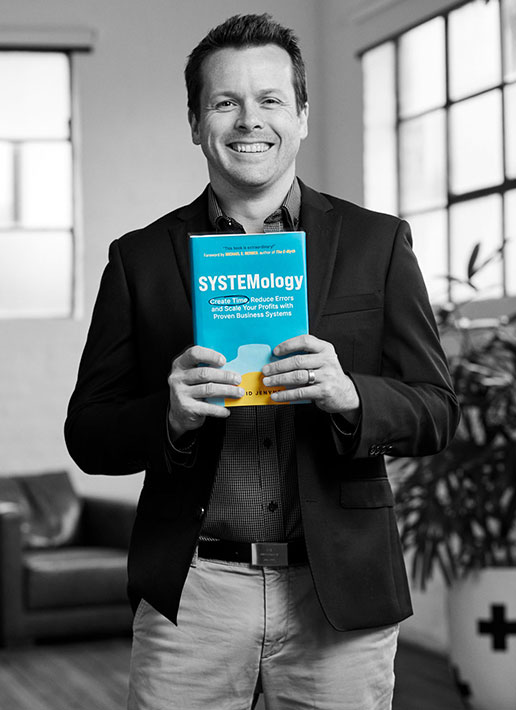 I'm on a mission to free all business owners worldwide from the day to day operations of their business.
The SYSTEMology Membership is a key part of fulfilling that mission, by sharing the exact method and tools I used when privately working with 1:1 clients to systemise their business.
The fact is, once your business is working without you, your life will change.
I know this because I've experienced both sides of it first hand. Both being completely trapped and how systems set me free.
In 2016, I successfully systemised myself out of Melbourne SEO Services, hired a CEO, and stepped back from the daily operations. Through this process, I became a systems devotee and founded SYSTEMology.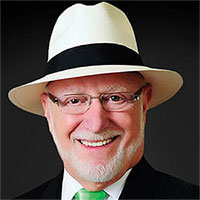 "David is a systems thinker, a creator of the first order, an entrepreneur who has done what I write about, not once, but several times.
SYSTEMology walks business owners through the process they must not only understand, but do."
Watch a quick video from Michael .E Gerber explaining why you should join the SYSTEMology membership.
The SYSTEMology Membership Includes
Step-By-Step Training
SOP Software
90+ System Templates
Step-By-Step Training
Step-by-step training
Team Accelerator Course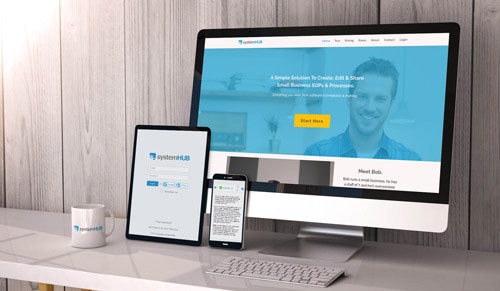 Designed to teach your entire team how to build a systemised business.
The course is self-paced with 9 modules and 60 lessons, including videos, worksheets, and examples to ensure you have a full understanding of the SYSTEMology approach.
It is quite literally, the system for systemising your business.
Valued at $1995
SOP Software
90+ System Templates
Watch the video to see everything that's included
Get Instant Access to the Membership!
Your subscription gives you everything you need to succeed in systemising your business. Simply click the button below and get started.
40 licenses for your team

All prices in US dollars plus Australian GST where applicable.

Not sure if the Membership is right for you?
The Membership is best suited for business owners who already have some traction in their business and want to go from survival to scalable and saleable. So if you already…
If this sounds like you, then the Membership is PERFECT for you and your team!
Results From Real Businesses
"I have so much more clarity in the core areas of my business. I cannot wait to see what the future holds"
"It's going to save my sanity and maybe my marriage and family too!"
"SYSTEMology is going to show you why YOU are the worst person to create the systems that you know deep down you need, how to create them with minimal time and how to ensure they actually get used!"
"In SYSTEMology, David Jenyns provides a clear, easy to follow system for creating systems in your business. The best part: you will discover that it does not have to be YOU creating the systems. Read this, implement and schedule your vacation!"
"I can now see a clear path to scale up as building systems will allow me to confidently delegate to a team and create much more capacity to take on more clients"
"Absolutely amazing, and brought so much in-depth clarity of business systems and processes for me."
"I'd suggest dropping everything to read and apply the learnings from David's book"
"David has done to the systems of business what Michael Gerber has done to the psychology of business."
Frequently asked questions
Got Questions? We've Got Answers
How long does it take to systemise a business?
As you can imagine, this question is a difficult one to answer. All businesses are different – from the level of products and services offered to the size of the organisation. That said, typically a business can see the positive impacts from the systemisation of their business within as little as 90 days.
Who should be involved in systemising?
While it's important for the business owner to begin the process, it is really the team who will carry this process through to completion. The SYSTEMology process was actually designed for your team. Accordingly we recommend businesses have a minimum of 3 staff and getting them all involved. That could be full timers, part timers and/or contractors.
For larger teams, include your leadership team and department heads to drive this forward.
Will SYSTEMology work within my industry?
The short answer is yes. SYSTEMology is industry agnostic. The fact is, all great businesses are build on a foundation of great systems. Business system are the build blocks of all business. We have literally worked with hundreds of companies directly and thousands indirectly…
From accountants, to book keepers, to engineers, to trades, to immigration companies, to roofing companies, to solar companies to doggy daycare businesses. If you can think of an industry. There's a great chance we've worked in it.
I'm just getting started in business, is the membership right for me?
For SYSTEMology to provide the biggest leverage, it's best to have at least some traction within your business. That is, you're already clear on your target audience. You have clear products and services. You're already selling and you have at least a few team members helping you (this may be part timers, full timers or contractors).
As long as you have a small team, you will get some great value.
Does the membership give me a place to store my systems?
The short answer is yes. As part of your membership dues, you receive a complimentary subscription to systemHUB. This is a cloud based platform designed to organise all your business SOPs, systems, processes and policies.
I already have systems in my business, what can the SYSTEMology membership do for me?
Great to hear you've already made a start with your business systems. As you know, there's more to building a systemised business than just documenting a few processes.
There's a good chance you haven't quite achieved your true potential yet. The SYSTEMology membership can help you fill the gaps and ensure you have everything in place to finally achieve Complete Business Reliability.
Is all of the content available straight away?
You get access to the core SYSTEMology Team Accelerator Training straight away! No waiting for content to be released to you, just jump in and start.
With the swipe and deploy templates, these are released weekly and loaded into your account.
Can I get one-on-one help and support for my business?
The SYSTEMology membership has been primarily designed for those who are looking to "do it themselves". While limited support is provided via our chat, you may want to consider some of our other services if you're looking for more hands on support.
See our fast-track implementation program and/or working with our Certified SYSTEMologists
What happens if I decide to cancel?
Obviously we'd love it if all of our members stuck around forever – but we've worked with business owners for long enough to know circumstances change! So, if you do decide to cancel obviously we'll be very sad, but you're free to go as you please.
I'm only interested in systemHUB but what happens if I cancel? Can I continue storing my systems?
Yes of course you a free to continuing using systemHUB. Simply visit the systemHUB website and select the plan the makes the most sense for you
I'm not 100% sure what the SYSTEMology membership is or if it's right for me, do you offer a trial so I can test it out?
We're not currently offering a trial, however you can get a good feel for exactly what the membership is and how much it offers by booking in a zoom call with one of our team.
This is your opportunity to finally build a profitable business that works without key person dependancy. Of course it will take work but I can assure you the rewards are worth it.
And we'll be here to support you every step of the way.
Click below and let's do this.