We can always count on one thing, and that is the entrepreneur's insatiable thirst for growth. We're breaking down 12 of the most influential books on business to read in 2021. This list contains a range from unmissable classics to fresh publications — each with years or even decades of success backing them up.
Think about your small business owner friends as you go down this list. If you're a consultant, a book is a great gift for your clients.
Many of these would be great gifts for high-level managers in your own company or others', too.
A note on the list order: We're starting with higher-level company-wide topics to concept- or strategy-specific topics.
Let's dive right in!
1. SYSTEMise your business with SYSTEMology
"SYSTEMology: Create time, reduce errors and scale your profits with proven business systems" – David Jenyns
Any business owner with at least a handful of employees needs this book. David Jenyns' dream is to free every business owner from the day to day busy-ness of their business. And the steps he's outlined in SYSTEMology will do just that. Ultimately, this system will take a business from getting by to ready to sell for top dollar. The best part is that the business owner isn't the one doing it all in Jenyns methodology.
SYSTEMology's chapter layout takes the reader stepwise from zero to a fully systemised operation, with case studies to inspire along the way. It's for the business owner who is veering towards burnout — or already there. For the business owner who doesn't think their business can be systemised, and especially for the business owner who doesn't have time to systemise.
2. How to make your small business work
The E-Myth Revisited – by Michael E. Gerber
Like its predecessor, The E-Myth, the "revisited" book builds the argument for processes. This revised edition expands on common pitfalls and failures in small businesses and what you can do to survive.
As more and more people are going into work for themselves, this is more relevant than ever. It's a must-read for any small business owner in the trenches of their business.
3. Get your employees excited about the business' success.
"The Great Game of Business: The Only Sensible Way to Run a Company" Jack Stack & Bo Burlingham
These days, gamification is the way of tech. Apps for daily habits, to-do lists, project management, wellness, you name it, have an interactive game element to them. And there's good reason for that. Our brains are wired for direct positive feedback loops.
In The Great Game of Business, Jack Stack lays out the business model he used to save SRC from the brink of bankruptcy. He created success by "gamifying" employee management. It's the "open-book management" approach, used by brands you'll recognize, like Netflix, that gets employees invested in the business' success. And who doesn't want employees who are motivated for top performance at every level?
Anyone in a management position — from business owners to executives and department heads — in nearly any industry should read this.
4. Get everyone on the same page
"Traction: Get a Grip on Your Business" – Gino Wickman
Gino Wickman's Traction is an actionable reference guide for what he has termed "The Entrepreneurial Operating System" (EOS).
Thousands of small business owners have applied Gino Wickman's "Entrepreneurial Operating System" (EOS) to get their business running and headed towards success. Wickman describes what a business needs in its leaders and organizing principles any management team needs to understand. Creating clear shared goals, vocabulary, and vision underpins all of the advice, tips, and action steps.
It's packed with information and exercises throughout to keep it actionable. Plus, readers can download lots of supplementary materials from the EOS website to make it even more actionable.
5. Scale your business with Pete
"Cadence: A Tale of Fast Business Growth" – Pete Williams
Any business owner who wants to scale their business needs to read this book. It's great for a business coach to gift their clients or for people you know who are eager to take their business to the next level.
As one Amazon reviewer put it, Pete Williams, a successful serial entrepreneur, gives readers the playbook to winning the Superbowl of the business world.
It's a comprehensive guide to scaling that will sit on your giftee's desk full of bent corners, highlights, and sticky notes for the foreseeable future.
6. Find and keep A-players
"How to Hire the Best: The Entrepreneurs Ultimate Guide to Attracting Top Performing Employees" – Dr. Sabrina Starling
"How to Hire the Best" is for any small business owner in any industry who is struggling to find and keep top talent. This is Dr. Sabrina Starling's third book in the "How to Hire the Best" series, out November of 2020. It distills the first two books with hundreds of real-life successes in her coaching business.
Dr. Starling teaches readers exactly what they need to do to create a workplace that top talent wants to work at, tackling any hiring problem at its root. Her principles work for any size business, in any industry, anywhere.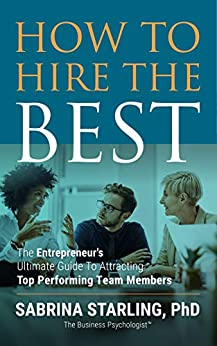 7. Marketing and staying connected.
"1-Page Marketing Plan" – Allan Dib
In "1-Page Marketing Plan," Allan Dib takes readers through a straightforward, fill-in-the-blanks action plan to build an ethical and comprehensive marketing strategy.
The book covers how to stand out, how to close sales without being salesy, and how to market on any budget. This would be an excellent gift for any small business owner, side hustler, contractor, or anyone in between.
Amazon review: "This book is the most lucid and most thorough book on this topic that I've read to date. " and "My MBA marketing courses didn't teach me as clearly as this book did."
8. Drive your sales through the roof
Hyper Sales Growth: Street-Proven Systems & Processes. How to Grow Quickly & Profitably. – Jack Daly
Hyper Sales Growth, like the title implies, is for any business owner who is ready for unprecedented growth. The book is really for a sales team, though. So, if their business doesn't have at least a small sales team (yet), this probably isn't the book for them.
The book's basis is that explosive sales involve 1) magnetic, empowering company culture, 2) solid A-team recruiting strategies, and 3) relationship-based selling.
Any team that follows Jack Daly's steps from this book is that much closer to creating loyal, satisfied customers.
9. Learn how to leverage LinkedIn
"INFLUENCER: The 9-Step Guide to Becoming Highly Influential in Any Industry" – Adam Houlahan
In today's market, it's more important than ever to create a stand-out personal brand. Author Adam Houlahan promises that anyone who follows the steps in Influencer will become "the go-to person in your industry within 90 days."
The book is packed with tips, examples, and action steps to get there. Build a magnetic LinkedIn Profile, build authority with the right content, and take full advantage of the platform's ins and outs. Now, before you roll your eyes, LinkedIn has over 700 million users (as of October 2020). It is still the top social network for business professionals (it isn't going anywhere anytime soon).
And Influencer lays out an unmissable framework for conquering it.
It's for anyone who wants to build enviable client rosters, garner respect in their industry, and make meaningful connections with a broad, impressive network
10. Price yourself right
"Someone Has To Be The Most Expensive, Why Not Make It You?" – Andrew Griffiths
The title says it. It's often easy for us to see the value that our friends and close colleagues don't see in themselves. And as any small business owner knows, the biggest obstacle to roaring business success is often us.
In "Someone Has To Be The Most Expensive, Why Not Make It You?" Andrew Griffiths, an author, speaker, and commentator with over 35 years of entrepreneurial experience, explains how under-charging could be undermining your business, how to charge more, and some great advice on how to make sure your work is worthy of that higher price take.
Sometimes we just need a good smack in the head to get over the fear of charging more. Gifting this book will do instead.
11. How to achieve goals with laser focus and precision?
"The 12 Week Year" – Brian P. Moran and Michael Lennington
"The 12 week Year" was inspired by the hyper-efficient cycles pro athletes use to plan their training. The book, by Brian P. Moran and Michael Lennington, lays out a step-by-step system for organizing and prioritizing tasks in 12-week cycles and establishes the mindsets one needs to execute.
The methodology ensures not only productivity but, even more importantly, effectiveness.
It's for anyone — really. Give it to your friends, give it to your employees, give it to your clients.
12. The key to saving time and growing profits
"80/20 Sales and Marketing: The Definitive Guide to Working Less and Making More" – Perry Marshall
Perhaps this book should have been number one; its principle is that powerful. Perry Marshall, marketing consultant, and best-selling author, breaks down and then builds out the 80/20 rule like you've probably never seen.
Stop seeking the next fancy technique to save your business (know any webinar junkies?). Instead, use the 80/20 rule to take back time and increase earning potential.
Reviewers say it's easy to read and digest. What's more, its implications reach far broader than "sales and marketing;" Whoever is lucky enough to get this gift is sure to find that the 80/20 rule, as Marshall teaches it, can transform every facet of one's life.
Final Word
Knowledge is the gift that keeps on giving. Each of these books is tried and tested, and any one has the potential to leave ripples in someone's business.
Whether you're looking for a thank you for your management team, sharing gems with your mastermind, celebrating your clients, or looking for some inspiration for your own list, there is something for every small business owner here.