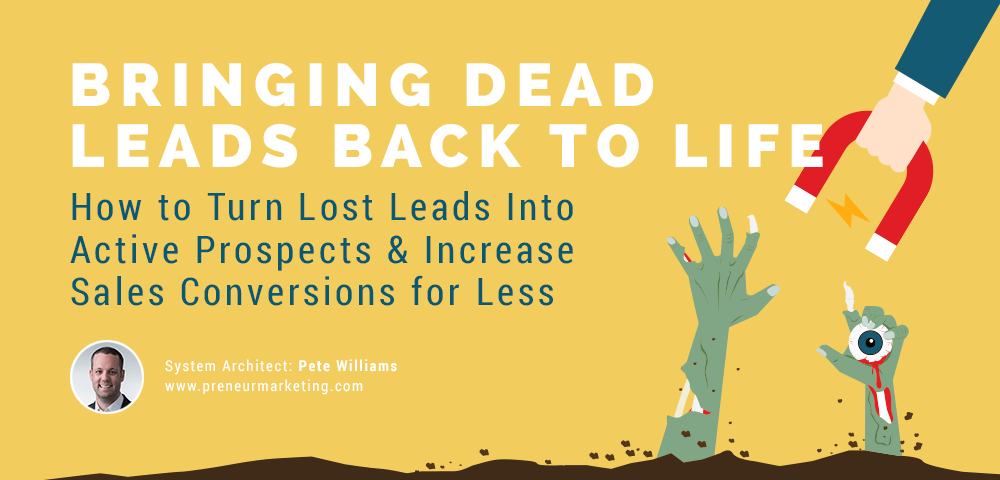 System Architect| Pete Williams: PreneurMarketing.com 
There's no one business that converts 100% of its leads into sales. No matter how effective your sales force is there will always be prospects that don't end up buying for some reason or another. Maybe they need more time to decide. Perhaps they were unsatisfied with the answers they initially received from your sales rep or felt their needs were unmet. Or maybe, they're simply unavailable or uninterested at that particular time. But this doesn't necessarily mean they're a totally lost opportunity!
What do you do with those leads that don't convert in your initial sales process? Do you just let them die a natural death like a lot of businesses do and focus more of your energy into getting new leads? What you may not realise is that chasing for new customers often costs more marketing dollars than trying to revive dead leads. By investing in an automated system to re-engage lost leads, you're most likely to increase your sales conversion strategy rate without putting a big dent on your marketing budget.
Resuscitation Marketing 101
Melbourne-based entrepreneur, author, and award-winning marketing expert Pete Williams has developed what he calls "resuscitation marketing," a systematic process of re-engaging lost leads and turning them back into active prospects. Using marketing automation software and email marketing platforms, the idea is to segment lost leads into specific categories based on their "causes of death" and craft a unique messaging campaign that will revive their interest in your products and help you close a sale.
Interested to learn more about how the system works?
Here is a six-step process to systematically and automatically resuscitate dead leads back to life and increase your conversions without new leads.
Step 1: Map out your sales funnel.
Step 2: Identify the death traps / where your prospects are falling out of the sales funnel.
Example: Client requests a quote, but you never hear back after you send it.
Example: Client requests a call back but they never answer your call.
Step 3: Categorise and group together the causes of death.
Example: The causes could be: missing in action, the price is too expensive, never reachable, lost to a competitor or they're going to do it themselves.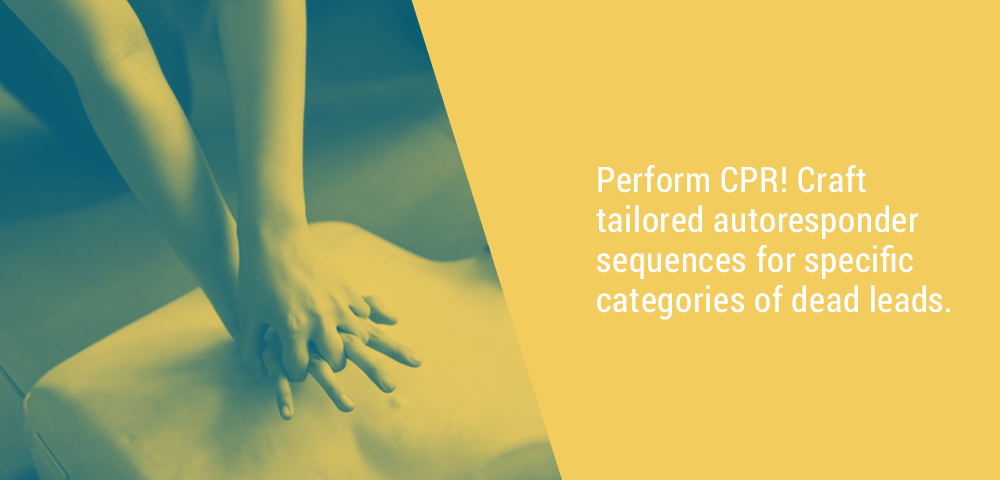 Step 4: Create marketing automation sequences to re-engage prospect.
Based on the different causes of death and identified categories, create tailored autoresponder sequences to engage lost leads.
Use marketing automation software like Infusionsoft or email marketing platforms like ActiveCampaign, Mailchimp.
Combine multiple methods of contact and offers to re-engage.

Direct Emails
Nurture Emails
Phone Calls
ReMarketing
Direct Mail
SMS
Affiliate Offers
Hail Mary Discounts
Step 5: Use automation to move "lost" leads into new re-engagement funnels.
Create the different causes of death categories (identified in step 3) in your CRM/Sales tool.
Automate the re-engagement process. When you mark a prospect with a cause of death, that automatically triggers the re-engagement sequence within your marketing automation tool.
Suggestion! Use Zappier (web automation tool) to automatically trigger your marketing automation platform (eg. Infusionsoft) from your CRM / Sales tool (eg. Nutshell, Pipedrive).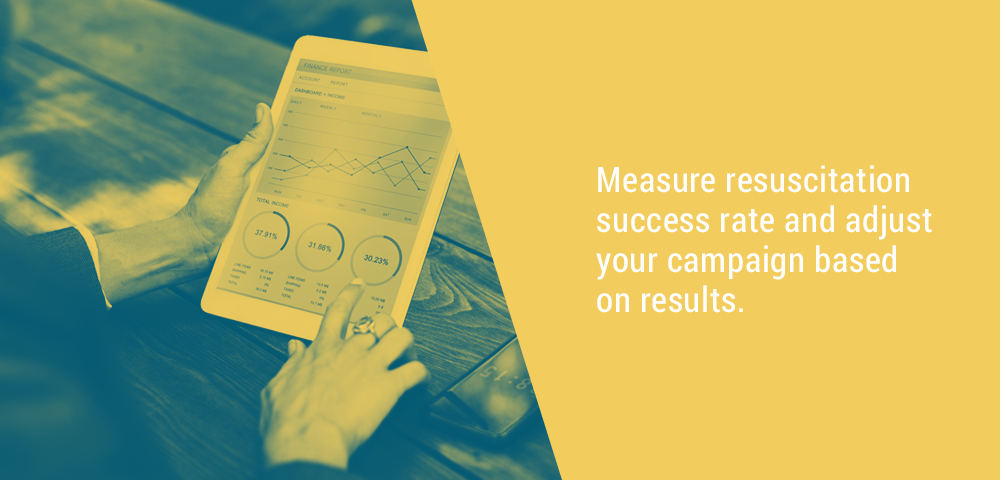 Step 6: Review, adjust and tweak based on results.
Create tags within your marketing automation tool, with the cause of death categories. That will allow you to measure how many leads were tagged as dead over a period of time, and how many dead leads were re-activated.
Measure the resuscitation rate of each campaign. For campaigns that have a lower rate, go back through the process and identify where engagement is lost and tweak the sequence.
Targeted Lead Revival Messaging
Now that you know how the system works, here's an important tip: Target messaging is key to increasing your chances of successfully converting dead leads into active prospects. If your lost leads didn't purchase because of your competition, make sure to offer something better they couldn't refuse. If they left your website with an abandoned cart, send them a gentle nudge to complete the purchase.
Be creative in your content. Use catchy phrases that will make your email stand out from the rest of your target customer's inbox. Below are some examples of fun and engaging targeted emails that encourage higher click through.
Resuscitation Marketing E-mail Sample 1: when your client goes missing-in-action after the initial enquiry and you want to know if they're still interested in your product/service
Body : Hi << first name>>,
Just wanted to reach out one last time regarding your recent phone system enquiry.
We haven't heard back from you, which can only mean one of three things.
Whichever it is – please let me know with a quick click
You've been eaten by a T-Rex and can't respond, or;
You're interested, but haven't had time to respond, or;
You aren't interested at all anymore.
Thanks Sue.
P.S. If you were attacked by a T-Rex, we've written up a small survival guide which might be helpful. Best of luck!
Resuscitation Marketing E-mail Sample 2: when client signs up but has yet to use your service
Subject : Were You Eaten By A T-Rex?
Body : Hi!
I wanted to quickly check in as I noticed you signed up but haven't posted a campaign yet. By my calculations one of two things could have happened.
Freak T-Rex accident
You had some questions on how FameBit work
I truly hope it was the latter! If you have any questions on getting started just reach out.
As a reminder, it is completely FREE to post a campaign to the Marketplace and on average you'll receive thirty or more proposals from YouTubers interested in working with your brand.
Click here
Stay Famous,
Adam & Team FameBit
Resuscitation Marketing E-mail Sample 3: when client hasn't been visiting your website or using your service for a while
Subject : We miss you!
Body : Greetings,
It's been a few months since we've seen you, and well… we kinda miss you! Since our Magic 8-Ball told us you missed us too, swing by our blog to read about what we've been doing. We've got some new features we're really proud of and we've been showcasing some great event stories lately.
Your next event could be one of them!
Create an event
As always, we would love to help set you up for event success. If you have any questions, feel free to email, call (xxx-xxx-xxxx), or check out our tutorials!
 Cheers,
– The Eventbrite Team
Get the gist? Now on to the best part!
Making the system work for itself
Automating your re-engagement process for lost leads increases your chances of unlocking new sales that you would have otherwise forgotten about. With the right tools (refer to Step 4 above), your resuscitation marketing campaign could pretty much run on its own – meaning less manual work for your sales team and more time for them to focus on congruent new lead generation efforts.
Click on the video below to get more insights directly from the resuscitation marketing guru.

System Architect – Pete Williams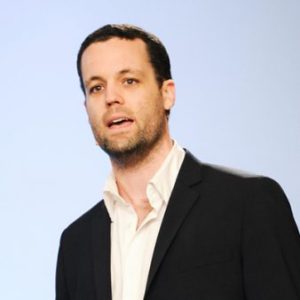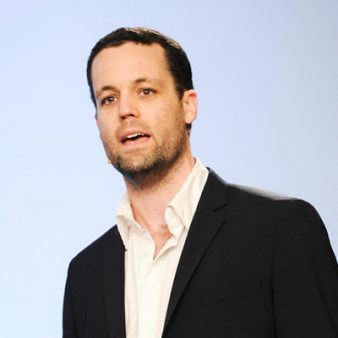 FORBES recently said Pete Williams is "One entrepreneur today that every marketer should be modeling", whilst INC describes him as "a savvy marketing strategist".
Pete Williams is an entrepreneur, author, and marketer from Melbourne, Australia.
Recently named a Small Business ICON award winner for the Best-in-Class marketing strategies he's implemented in his leading Telco company.
Lots of other people think he's pretty good too! He's been announced as the Global Runner-Up in the JCI Creative Young Entrepreneur Awards for 2009, the Southern Region Finalist in the Ernst & Young 2010 Entrepreneur of the Year, and a member of SmartCompany's Top 30 Under 30.
Pete will share the tactics, processes and steps you can swipe and deploy to resuscitate the dead leads your business is sitting on right now.
Website: PreneurMarketing.com