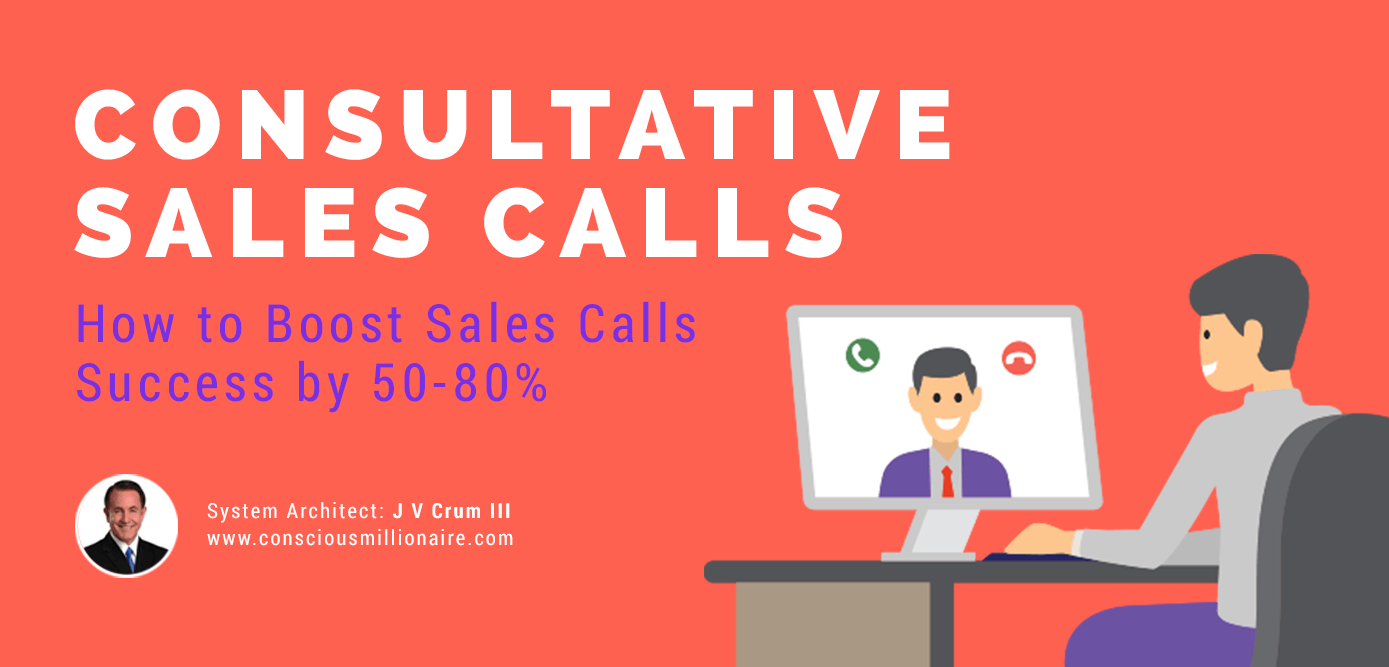 System Architect | J V Crum III
: 
consciousmillionaire.com
Are you struggling to win business? Are you getting client pushbacks and not getting anywhere near a good conversation, let alone close a sale?
For decades the consultative sales approach has been a buzzword for many businesses, but very few truly understand the ins and outs of selling consultatively.
In today's cutthroat fast-changing market, you need to better engage customers to understand their pain –in some cases, it will be an opportunity – and be able to adopt a tailored collaborative approach that will compel them to take action.
High performance coach and mentor J V Crum III, Founder, and CEO of ConsciousMillionaire.com, has helped thousands of entrepreneurs and leaders grow their businesses, make more money and create a bigger impact.
This step-by-step process developed by J V helps you define your client niche, and develop an effective consultative sales script that will get them engaged, win their business and drive your revenue success!
Here's how to craft consultative sales calls
Step 1: Identify and understand your target audience / niche.
Start wide and then narrow your focus – at least 3-4 levels deep. For example, if your niche is coaches and consultants, the next deeper level would be business coaches and consultants and a deeper level beyond that would be 6-figure business coaches and consultants, etc.
Step 2: Identify the top 3 problems your niche market faces.
These problems should be problems your niche market is actively looking to solve and problems you're confident you or your products/services can solve.
Step 3: Define your "Big WOW".
Outline the big result that you know how to deliver. Ensure it solves one or more of the top 3 problems you identified in the previous step.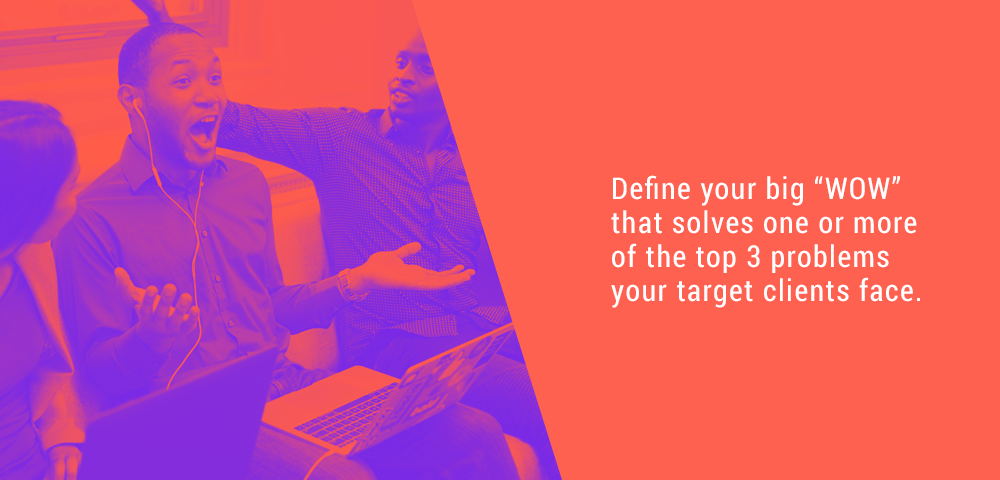 Step 4: Use your "Big WOW" to name your consultative call.
Don't call your sales consultative call a "strategy session". Take a piece of your "Big WOW" and use it to name your consultative call.
Use the subtitle to make a big promise that you are comfortable with, yet confident you can achieve.
Step 5: Put yourself in state, be real, and fully present.
The quickest way to build rapport is to be present.
Step 6: Start the call and outline the agenda.
Explain that there are 3 parts to the call.

Part 1 – Have them explain their current position.
Part 2 – Explain where they would like to be in one year.
Part 3 – Explore the gap between the two.

Reiterate your goal is to deliver on your promised "Big WOW".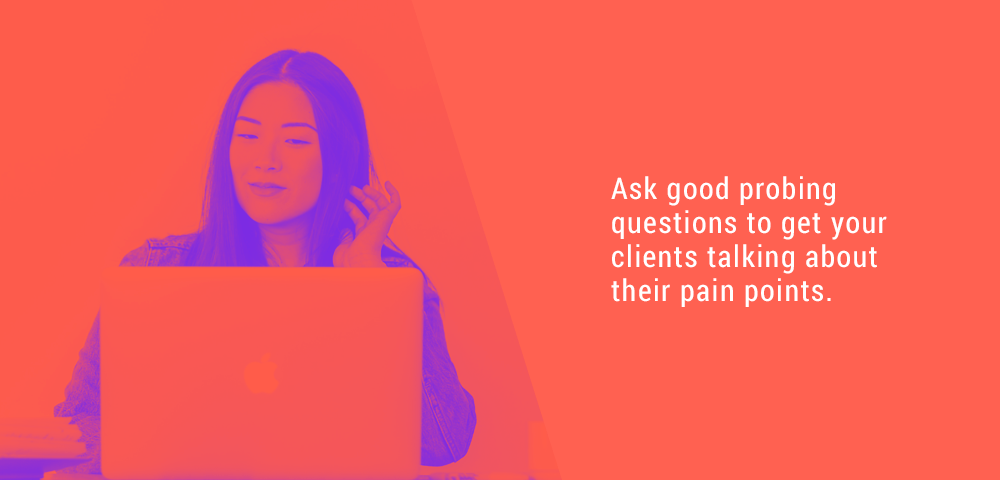 Step 7: Have them explain their current position.
Use the 80/20 rule during the call, where you listen 80% of the time and speak 20% of the time.
Your job is to ask probing questions, not to be talking all the way through the call.
Your job is to ask probing questions, not to be talking all the way through the call.
Step 8: Have them explain where they would like to be at a future date.
Depending on your product/service, use a timeframe like 30, 60, 90 days, or 1 year.
Step 9: Explore the gap between where they are and where they would like to be.
You're looking to find their pain, what's missing, and how they feel about where they are today vs. where they want to be.
Ask them to elaborate on "how they feel" about the gap.
Step 10: Closing the call.
Ask if your client wants to discuss their options on how you can help them achieve the outcome they identified / where they want to be.
Give them a promise or a guarantee. This promise gives them a big result and a huge return on their investment, it also removes their risk and puts the responsibility on you to deliver.
Step 11: Make the sale.
Wherever possible, make the sale on the call.

Add bonuses or discounts to encourage them to buy today.

For those who don't buy during the call, have a specific follow-up appointment set up for the next day.

Suggestion! Send them a Google invite that they can accept so it adds the appointment to their calendar.

Don't be afraid to discuss any objections.

"I find when people don't move forward often times it's because I failed to give them enough information or I failed to answer all their questions. So let's just talk about it because I want you to make the right decision for you."
Eager to increase your sales calls success from 10-20% to 50 to 80%? You will never go wrong if you focus on perfecting these steps.
So what are you waiting for? Get on with it and watch your sales revenue soar!
Click on the video below to learn more about this proven-effective system.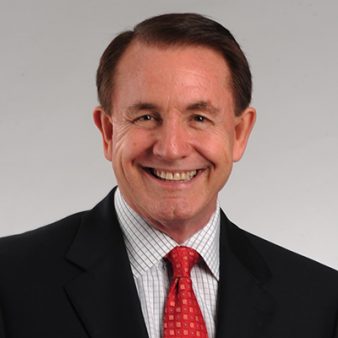 System Architect – J V Crum III
Inc Magazine named Conscious Millionaire one of the Top 13 Business Podcasts to listen to in 2017. Conscious Millionaire is a Podcast, Community, and Academy created for established business coaches and consultants who want to make their First Million while making a positive impact.
Host J V Crum III has become a podcast legend for his highly successful podcast and syndicated drive-time radio show heard by millions of listeners in 190 countries. Listen M-F, five-days a week. Visit ConsciousMillionaire.com to learn more about our VIP Private Coaching, Masterminds and Academy.
Host J V Crum III interviews the world's top entrepreneurs, coaches, experts and though-leaders in the conscious coaching and business revolution.
J V Crum III, JD, MBA, MS Psy is the #1 best-selling author of "Conscious Millionaire: Grow Your Business by Making a Difference." BOOK J V ON YOUR SHOW – podcast, radio, TV or media.
BE A GUEST: consciousmillionaire.com/podcast-contact