No one wants to stare at a blank page. So, those "non-essential" to-dos find a permanent spot at the bottom of the list.
All too often, that's where creating systems sits — always intended, never completed❌.
Even if you have a handful of core systems (good for you — you already get how valuable systems are), each new system can be daunting… Especially if your approach is wildly inefficient and over-complicated.
That's true for most people. But it doesn't have to be.
Whether you're just starting to systemize or your business is gliding along with hundreds of systems, a handful of universal tips will make every first draft easier to create.
After walking 100s of business owners through the ins and outs of systemizing, founder Dave Jenyns has a foolproof approach to creating any system, building the foundation for an elegant and functional web of business systems.
In this video recording of a live seminar, Dave clears away the fluff and makes it easy and approachable to start creating your system by tomorrow.
—
🟢 Remember to subscribe! 🟢
👍 And if you find a helpful tidbit here, make sure to give the video a like 👍
—
From a hands-on seminar, Dave explains:
The deceptively simple definition of a "system."
How detailed your system needs to be.
The two types of systems,
And when to employ them.
What format should your system be in.
The KEY to creating a great system.
Timestamps:
00:00 Intro: How to start creating your system: extraction.
00:33 What is a system? The essential definition.
01:00 Choose the correct type of system: overview and how-to systems.
02:05 Which system format will work for your team: video or checklist?
02:12 Keep your systems simple. 
02:25 An example of an evolving system
02:55 Remember these maxims.
03:10 Example of a high-level overview system. 
04:05 How to tailor systems for your employees' roles.
04:45 Which system should you start with?
05:00 Create a network of systems over time — an example. 
05:50 How to create a "how-to" subsystem — with an example.
07:00 THIS is the key to easily creating great systems.
Formatted Transcription:
This article is about capturing your system (step three, "extracting," of the SYSTEMology™ method). How do we now start to think about getting the knowledge out of the head of those key team members? (Hint: there's more mindset work here than you may expect.)
But First: What Is A System? (And What It's Not.)
First, we need to do a little bit of rewiring in your brain as to what a system is. A system is not some detailed 20-page document with bullet points and flowcharts. A system can evolve into that, but really, the basic definition is that a system is a series of steps that, when followed, produce a consistent outcome. 
However you want to capture those steps will depend on the task. Sometimes it's a checklist; sometimes, it's a video, sometimes, maybe there's a little bit more detail to it, but that's all it is. It's just a series of steps. Step one, step two, step three. And if you're hiring great team members — an excellent Ops manager, maybe — we might not need to go into the super micro detail. We might just start off with these high-level milestones.
Here's an example of a milestone step: Let's say we forgot to properly brief a client on some work we were going to do. So, they were surprised when they got an invoice at the end of the job. Oops!  Maybe one of the steps for this system should be a milestone step to make sure there is no "surprise" billing. It's someone's job to crosscheck and make sure it's communicated to the client and it's signed off. A "milestone," high-level step must be completed before the next steps. 
But I like that definition because it works at the high level and the detailed, granular level. 
What Will My System Look Like?
Your first system could be a simple video — understanding that these systems will change over time. It might be a checklist, a video, or a combination of the two. We just want to keep it really, really simple. Don't overcomplicate. 
The Key To Systemizing Your Business, One System At A Time 
Most people struggle with consistency when it comes to systemising their businesses. The best way, though, is to just keep it simple and understand that your systems will evolve.
Case in point: Here is a screen grab of a video I made, I don't know, fifteen or ten years ago.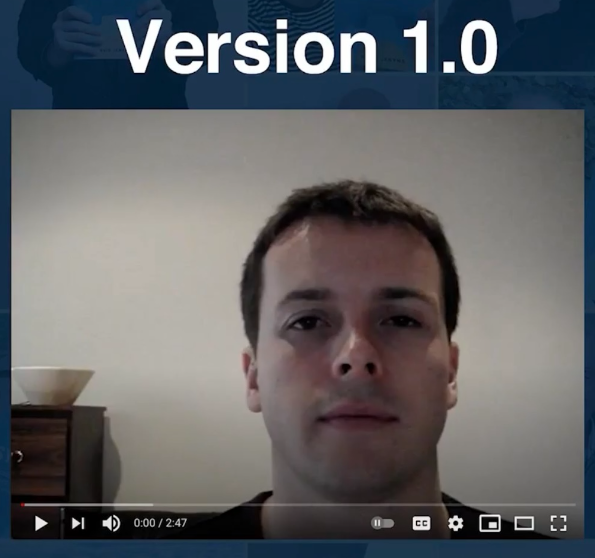 And this is what my videos look like now.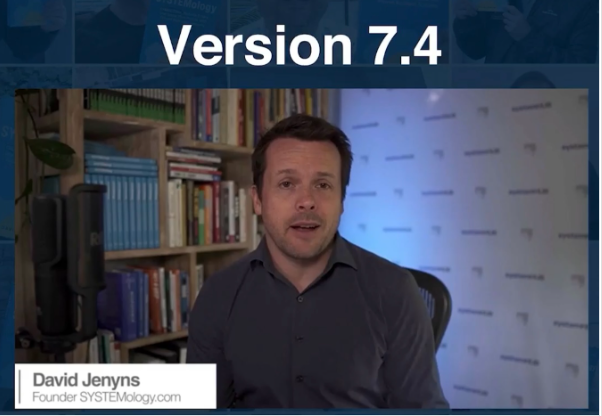 Now I've got lighting, and the set looks good. I know what I'm saying, and I'm looking straight at the camera, and I don't look like a drug dealer sitting in my bedroom with my clothes drawer in the background. I've evolved.
Don't let polished examples get in the way of just getting started. The first version is the worst version, and that's okay. Something is better than nothing. McDonald started off doing the chalk on the basketball courts. And that's how you get started. 
The Two Types of Systems: Overview vs. How-To
Let's get back to those two types of systems: overview, high-level systems versus more detailed how-to systems. 
When You'll Need An Overview System
Here's an example of a built-out system from my video production business. This is an overview system for videographers. It's a high-level system for client onboarding, including how we set them up in our project management platforms. It then links to a more detailed how-to system for discovery sessions, which goes over what we say on the discovery call with a script. So, we see high-level project management and granular steps for discovery calls. 
When You'll Need A How-To System
You might start off with a high-level process like this, and over time it might branch out into more detailed how-to systems. Each one of the links in this overview system leads to a how-to system — like the system for the way that we run a discovery call. A production manager might be the person who'd oversee the overview system, but because she's not running the discovery call, she doesn't really need to know the videographer's steps on the discovery call. 
Instead, the production manager makes sure that all of the different team members (the videographer, the editor, etc.) do what they need to keep the project ones track. She then assigns each how-to system to the person who is responsible for completing the task (we use Asana, but the idea applies to whatever project management platform you use). 
How-To and Overview Systems Fit Together: An Example
And yet another example: this was our core product. Likewise, you'll make your first overview system for the delivery of the product or service you've identified in your critical client flow™.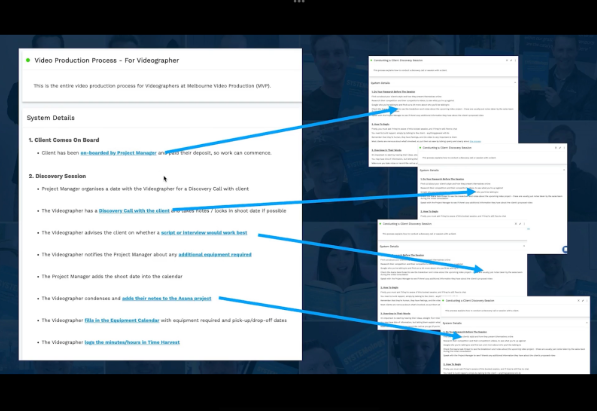 In the video production business, we had a thing we called our Your Story Video, which was a two or three-minute video where the business owner would tell their story, and it'd end up on their About US page. That was our primary product. Our overview system covered how to deliver that work. And, again, within this system were links to how-to systems. 
Quite a bit of work went into this final system, with its related, more granular systems. I'm showing you the finished product, but you only get there by just chipping away. 
Your System Might Start Out Messy, Like This One
In fact, at the very bottom of this system, you'll find a video. That's how the system started. It was real, raw, and rough around the edges. All I did was have my videographer record all of his discovery calls on Zoom. We put a bunch of those videos at the bottom of this system. Then we had someone watch them and write out the questions that recurred throughout the videos. Okay, well, that now becomes the system. 
Now, we've got a combination of videos that show it being done and questions that are getting asked about how to prepare, and it makes it really easy then to plug in a new videographer. The system becomes a great resource for training up new team members. You get the idea. This is not rocket science. It's just chipping away and keeping focus. That's the hardest thing for you. It'll just be focus. Like, how do you keep this front and center?